About us
The North Staffs Accordion Club was established in January 1985 to provide an organisation where accordion players and enthusiasts in North Staffordshire and South Cheshire could meet, make music, and listen to guest players. It has evolved over the years to the club it is today having several facets as explained below.
More information can be obtained from our website: www.northstaffsaccordionclub.co.uk.
Club Night

We normally have 12 club nights each year, e.g. 6 nights with a guest artist and 6 nights where our club players take a turn at providing the music. Our club nights are on the 3rd Tuesday of the month at Wolstanton Golf Club (ST5 9DR) starting at 7.30 pm
If you'd like to play some music on an instrument of your choice at o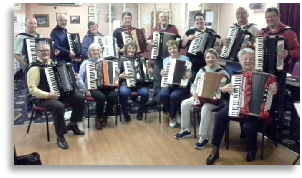 ne of our club nights, please let us know and we'll do our best to fit you in.
Beginners'/Improvers' Night
This group meets on a Monday night at 7.00 pm at Holditch Workingmen's Club (ST5 7PT) and players of all abilities are catered for, including absolute beginners.
If you'd like to try your hand at playing an accordion, please let us know and we'll be there to help you.
Loan instruments are available.
The North Staffs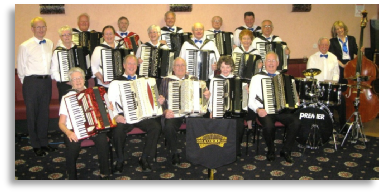 Accordion Band
Our band meets on a Tuesday night at 8.00 pm at Bradwell Workingmen's Club (ST5 8JA). The band plays a variety of lovely music (four part harmony with percussion) and it is often invited to play at concerts. Several band members are pianists who learnt to play the accordion as a second instrument.
If you're interested in playing in the band please let us know. Our beginners/improvers group could be an ideal route to achieving this objective.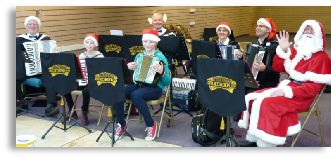 Membership
Club membership costs £10 per year, entrance on a guest night is normally £4 and entrance on a player's night is £2 for members, otherwise £3.
Newsletter
Our club publishes a bi-monthly newsletter. This lets our members know about forthcoming events and it has lots of interesting articles.
Getting an Instrument
The cost of second-hand instruments has dropped in recent years and bargains can be found in on-line auction sites such as eBay, Gumtree, Preloved etc. If you have no experience of the instrument we can advise prior to purchase. Instruments are also advertised for members in our newsletter and sometimes displayed for purchase at our club nights.
The club has a loan-hire process whereby an instrument can be hired from £5 per month. If you decide to purchase that instrument half of what you have paid in hire charges is deducted from the price, the value of which is set at the outset of the loan.